The 16th Annual Meeting of the Japanese Society of Gastroenterological Surgery

President: Masakazu Yamamoto
Department of Surgery, Institute of Gastroenterology,
Tokyo Women's Medical University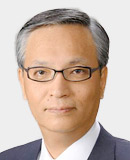 The 16th Annual Meeting of the Japanese Society of Gastroenterological Surgery will be held in Kobe from November 1 (Thu.) to 4 (Sun.), 2018, during JDDW 2018. It is truly a privilege and an honor, and I am deeply grateful.
Established in 1968, the Japanese Society of Gastroenterological Surgery (JSGS) will be celebrating its 50th anniversary in 2018. A commemorative ceremony is planned at the 73rd General Meeting of the JSGS, which will be held in July, presided by Dr. Shoji Natsugoe of Kagoshima University as Congress President. There will also be a 50th anniversary event at the Annual Meeting of the JSGS in November at JDDW 2018 Kobe. I think the event will be a good opportunity to introduce the 50-year history of JSGS to members of the Japanese Society of Gastroenterology, the Japan Gastroenterological Endoscopy Society, the Japan Society of Hepatology, and the Japanese Society of Gastrointestinal Cancer Screening.
The theme of this year's annual meeting is "Onko Chishin," which is derived from the Analects of Confucius and means to discover new insights from the past. Although the expression is rather commonplace, I think it is fitting for this anniversary year. At this 50th anniversary of JSGS, we hope to look back on the past achievements of our society as we survey the prospect for the next 50 years, and provide a guide to young surgeons starting in the field of gastrointestinal surgery.
For JSGS's special 50th-anniversary event, Japan's leading surgeons will recapitulate our 50 years' experience in the surgical treatment of gastrointestinal cancer. For the Integrated Program with other societies, we will examine borderline pancreatic cancer, gastrointestinal imaging, early cancer of the upper gastrointestinal tract, intestinal bacterial flora, hepatocellular carcinoma, and immune checkpoint inhibitors. In the International Session, we will have discussions on such topics as liver metastasis; laparoscopic liver, pancreas, and biliary surgery; and robotic surgery. For the Panel Discussion, we plan to have sessions on intrahepatic cholangiocarcinoma and pancreatic cyst diseases, and for the Workshop, there will be presentations on the cutting-edge surgical dissection and endoscopic surgery. In collaboration with overseas societies, we are also planning to have a joint symposium with SSAT and APSDS.
JDDW also provides valuable opportunities for discussions with gastroenterologists of internal medicine, as new vantage points can emerge out of learning from each other and through discussions. Under the theme of "Onko Chishin," we look forward to seeing you in Kobe in the autumn and hope that many of you will be able to participate.