The 59th Annual Meeting of the Japanese Society of Gastroenterology

President: Masanori Sugiyama
Department of Surgery, Kyorin University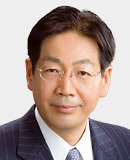 It is a great pleasure and honor for me to host the 59th Annual Meeting of this prestigious Japanese Society of Gastroenterology (JSGE). The Meeting will be held during JDDW 2017 (12th to 15th October, 2017) in Fukuoka.
One of the aims of the JSGE is to integrate gastroenterology in terms of internal medicine, surgery, and basic research and clinical practice. I myself have engaged in the clinical practice and research of gastroenterological diseases from multidisciplinary points of view, including endoscopy and diagnostic imaging, while maintaining my basic stance as a surgeon. JDDW, in particular, is a scientific meeting where physicians and researchers from multiple fields gather to present and discuss the latest knowledge of basic and clinical research in the gastroenterological field. At the Theme Sessions and other sessions, current issues surrounding gastroenterology will be addressed from such different standpoints as internal medicine, surgery, endoscopy, radiology, pediatrics, pathology and basic medicine.
The experts from both Japan and abroad will be invited to the International Session at this Meeting to discuss two themes: "Recent progress of pancreatic cancer treatment" and "Recent progress of chemotherapy and immunotherapy of gastrointestinal cancer." The Integrated Program, which will be organized jointly with the Japanese Society of Gastroenterological Surgery, will cover "New development of IPMN management and research" and "Total management of inflammatory bowel disease based on internal medicine and surgery."
The field of gastroenterology is quite vast, dealing with a wide variety of diseases. Along with the remarkable progress of gastroenterology of late, treatment and research has become more and more complicated and sophisticated, leading to growing segmentation in medical specialization in some areas. I strongly hope that JDDW as well as this Meeting will provide the participants with the opportunity to update the general gastroenterological knowledge.
I look forward to the participation of many fellow members.