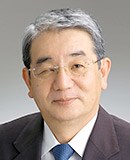 The 53rd General Meeting of
the Japanese Society of Gastrointestinal Cancer Screening

President: Masafumi Suyama
Department of Gastroenterology, Juntendo University Urayasu Hospital
I have been nominated as the chairman of the 53rd General Meeting of the Japanese Society of Gastrointestinal Cancer Screening. It is a great honor to be named as the chairman of the annual meeting of an academic society with a distinguished tradition. The annual meeting will be part of JDDW 2015, which will be held in Tokyo from October 8 to 11, 2015, and will be held on the first day of JDDW. The General Meeting has been downsized because JDDW will only be held for three days, with the fourth day reserved exclusively for educational presentations.
It is well known that long-term survival (complete cure) of gastroenterological cancer is possible if it is diagnosed and treated early, and I believe that is why this society has great significance. To date, much focus has been placed on the creation of methods and systems for efficiently diagnosing cancer. Early cancer has been defined for gastroenterological cancer, hepatocellular cancer and biliary tract cancer, but not for pancreatic cancer as yet. Electronic scans have been used for over 35 years, and although relatively small pancreatic cancer growths are detectable using ultrasonography, it is still difficult to diagnose pancreatic cancer that is not infiltrative. It has been revealed that since pancreatic cancer occurs in the epithelium of the pancreatic duct, it is not limited to cancers forming a tumor mass. There have been reports of many cases of diagnosing cancer in situ and minimally infiltrative cancer through medical cooperation, and many facilities are investigating diagnostic techniques combining ultrasonography with CT or MRI. The clinical image of early stage pancreatic cancer has started to be reported. A topic of the panel discussion is "Screening of Pancreatic Cancer and Follow-up Management". We still have a long way to go, but I hope we are able to find the right path. We have also learned that H. pylori gastritis may be one of the causes of gastric cancer in a similar way that the hepatitis virus is in hepatocellular cancer. H.pylori decontamination may also change the way gastric cancer screening is conducted . At this meeting, the topic of the panel discussion will be "The Role of Targeted Gastric Cancer Screening." We hope that it will improve efficiency of gastric cancer screening in the future.
I would like our members to make the best of this opportunity for interacting with other gastroenterological societies by presenting your research results and engaging actively and constructively in the discussions.
I look forward to having many of you submit applications for the theme sessions and poster sessions.