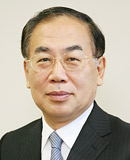 The 19th General Meeting of the Japan Society of Hepatology

President: Masayoshi Kage
Department of Diagnostic Pathology, Kurume University Hospital
The 19th General Meeting of the Japan Society of Hepatology will be held in Tokyo for two days on October 8 (Thu) and 9 (Fri), 2015, as part of JDDW 2015. It is a great honor, and I would like to express my heartfelt gratitude to the members of the Japan Society of Hepatology and relevant personnel for providing this opportunity.
The theme of this meeting of the Japan Society of Hepatology is "creation of broader hepatology". The concept is to lower the barriers between areas within hepatology, and make hepatology gain greater versatility. Just over a decade has passed since the start of the 21st century, and medical treatment has progressed and advanced rapidly. Hepatology has made great strides, but the areas of research and areas of treatment have diversified and segmentalized in the process. As a result, it has become difficult to catch up in areas other than one's own specialty. Medical personnel are required to be updated on a broad range of knowledge and skills. To respond to such needs, the topic of this meeting of the Japan Society of Hepatology was selected to make a more interdisciplinary academic gathering spanning many fields.
I will introduce a part of the program. JDDW is made up of five academic societies. The latest information on gastroenterology is brought together and discussed. This year, the constituent academic societies chose six key themes through discussions to create an integrated program. The themes of the integrated program proposed by the Japan Society of Hepatology are "progressive hepatocellular carcinoma" and "nutritional management in gastroenterological disease". Presentations of the latest cross-sectional research results are expected. In the international section, we plan to have two workshops in English on the topics of "Diabetes mellitus & hepato-biliary diseases" and "Pathology of NASH". Global leaders in their respective fields, are scheduled to make keynote addresses. Advanced research results are expected to be discussed vigorously by researchers from inside and outside Japan in these workshops. Panel discussions include "The clinical conditions of organs correlated with the liver disease," "Aiming for a consensus on combined hepatocellular and cholangiocarcinoma", etc. The first involves viewing the clinical condition of various organs dynamically based on the liver, and it is hoped that this will broaden the perspective of viewing liver ailments. We would like the second panel to focus on an approach for formulating a standard for diagnosing the much discussed combined hepatocellular and cholangiocarcinoma. At the symposium, we will discuss "Pediatric Liver Disease - Keeping Clinical Research Up to Date" and "Liver Regeneration - From Fundamentals to Clinical Study". We would like to increase understanding of the particularities of pediatric liver disease and diseases that carry over to adulthood. In the liver regeneration session, we would like to consider the future outlook of translational research. The workshop covers two topics: "Research on Viral Hepatitis Type B and New Developments in Treatment Strategies" and "Portal Hypertension - Future Developments in Diagnosis and Treatment". Viral hepatitis type B and portal hypertension continue to present serious clinical problems. To overcome these, we expect further discussions based on new research results.
At JDDW, the latest information on gastroenterology, including hepatology, will be provided. All that I hope is that as many people as possible will participate beyond the bounds of their medical fields, improve their understanding of hepatology, and utilize this knowledge to further tomorrow's research and medicine.