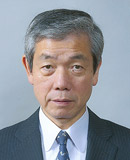 The 57th Annual Meeting of the Japanese Society of Gastroenterology

President: Hajime Takikawa
Department of Medicine, Teikyo University School of Medicine
The 57th Annual Meeting of the Japanese Society of Gastroenterology will be held at the Grand Prince Hotel New Takanawa and Grand Prince Hotel Takanawa for two and a half days from October 8 (Thu) to the morning of October 10 (Sat), 2015, as part of JDDW 2015. It is a great honor to oversee this Annual Meeting of the Japanese Society of Gastroenterology with such a long history. JDDW 2015 has been conceived by five academic societies - the Japanese Society of Gastroenterology, the Japan Gastroenterological Endoscopy Society, the Japan Society of Hepatology, the Japanese Society of Gastroenterological Surgery, and the Japanese Society of Gastrointestinal Cancer Screening - working closely together to provide an appealing program that satisfies participating doctors. Integrated programs and joint programs with gastroenterological surgery have been included as much as possible, and we are confident that we will meet your expectations by exposing you to the latest information in all areas of gastrointestinal screening and enabling you to learn.
Starting this year, the number of themes has been reduced because the regular annual meeting will be conducted over three days, with the fourth day reserved exclusively for educational presentations. The use of digital signage for posters will allow us to forgo the use of Shinagawa Prince Hotel as a venue, where the inconvenience of moving about the venue became an issue at JDDW 2013. Drug-induced liver injury and IgG4-related pancreatobiliary diseases were covered at the International Session of the Society of Gastroenterology, and I hope there will be active exchanges with doctors from various other countries. There will be 13 other sessions on key topics, and I expect that these will lead to lively discussions on gastroenterology.
I truly look forward to seeing many doctors participate.